Skip to end of metadata
Go to start of metadata
A recovery point is created as the result of data replication. The first recovery point is called an initial replica because it is performed only one time as long as the storage medium is not replaced.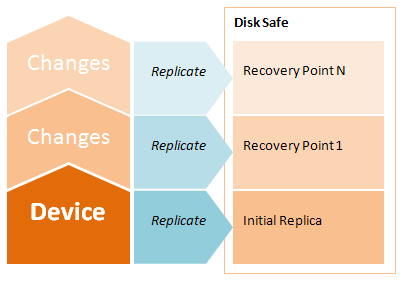 In a Virtual Full Backup each recovery point is comprised of many Deltas. A Delta represents the state of a disk volume block at a particular point in time. Each Delta can be used by one or more Recovery Point. The relationship between Deltas and Recovery Points is maintained by the Disk Safe.
A Recovery Point appears like a Full backup to the user. That is, the Recovery Point only looks like a full backup, as each Recovery Point only contains block level Deltas or changes since the last Synchronization. In other words, a Recovery Point is a point-in-time virtual full backup of the devices (or selected files/folders on devices).
The Recovery Point Retention is defined in the Policy properties. The Retention rules define how many Recovery Points to keep in the Disk Safe. Old Recovery Points are merged automatically.
Recovery Point properties:
Mount Point
Last Device Path
Content Type
Identification
File System Properties
Synchronization Details
See descriptions in Access recovery points.
The following actions are available for the Recovery Points:
View
Delete (merge)
Lock
Restore
You can limit the number of Recovery Points stored in the Disk Safes assigned to the Volume. Read more in Create volumes.